The Claretian Planned Giving Center
Meet Our Team
We have a skilled Planned Giving Center team ready to assist you as you consider ways to provide spiritual and financial support to Claretian ministries.
If you want to partner more closely with the Claretians through a planned or major gift, please contact our Planned Giving Center at 800-237-7783. You will appreciate their understanding of these matters and their sensitivity to your wishes and privacy.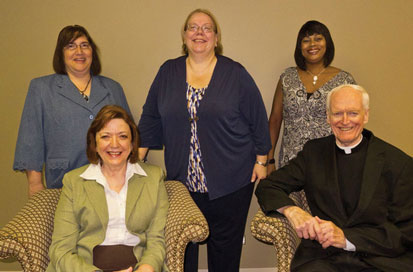 Front Row: Barbara Blanke, Father Mark Brummel, C.M.F.
Back Row: Mary Tyk, Mary Wash, Connie Williams
Who are the Claretians?
The Claretians are a Roman Catholic religious community of priests and brothers dedicated to the mission of living and spreading the Gospel of Jesus - to serving life - in more than 60 countries on five continents.
Claretian ministries are devoted to social concerns and issues of justice and peace in parishes, foreign missions, and publishing. We are committed to reaching out to young people in the inner city, on college campuses, and through the Claretian Volunteer and Claretian Summer Ministry programs.
The Claretians are dedicated to seeing the world through the eyes of the poor. We strive to respond to the most urgent and timely needs, using all means possible to care for the spiritual and material needs of others. We give special attention to recent immigrants, youth and families, leadership training, and spiritual renewal.
The Claretians were founded by St. Anthony Claret in Spain in 1849. A man on fire with God's love, Claret embodied the special charisms of community, mission, evangelization, and spirituality. The flame is a symbol of the passion and zeal that are part of Claret's legacy.