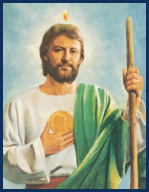 The St. Jude Prayer Circle for Healing of Cancer gives you and anyone you know an opportunity to experience the healing power of St. Jude's intercession.
Bless your loved ones who suffer from cancer by posting your petition for yourself of anyone you know suffering from cancer here. By adding your special intention, you join multitudes in the unified power of healing prayer to St. Jude. May God and our patron of hope bless you and heal you. Click here to create your Prayer Circle page »
Light a Vigil Light for healing
Keep vigil over those who suffer from cancer by lighting a St. Jude Vigil Light. Your prayer and the light of Christ keeps our hope alive. We believe in the power of prayer to heal.
View Stories of Prayer for Healing of Cancer
Submit your own story of healing of cancer, and invite your friends to pray with you.